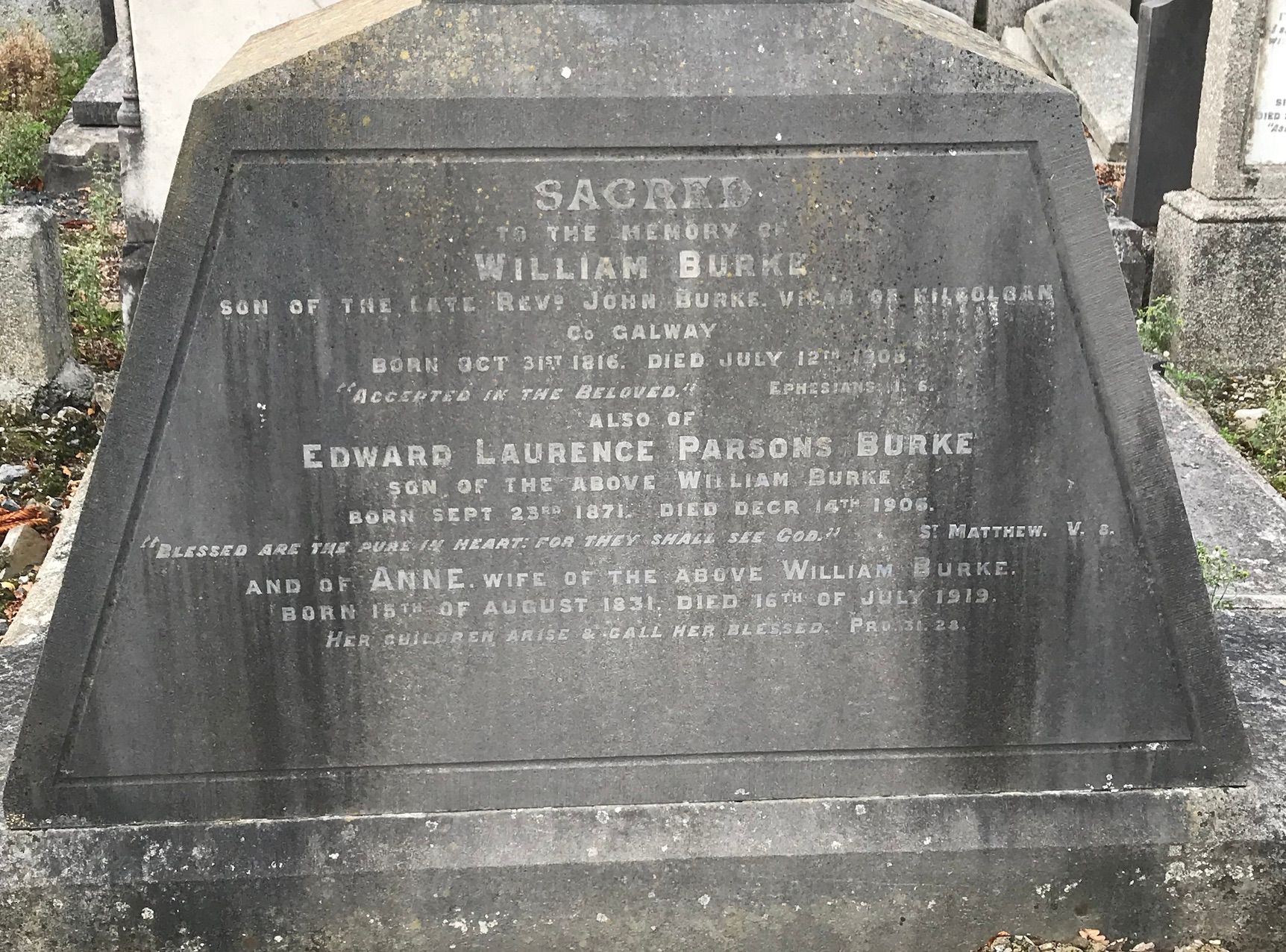 10 Aug

Anne Creaghe and William Burke

Anne Creaghe (1831-1919) and William Burke (1816-1908)

Family Chart: Generation 8, Number 33

Stephen Creaghe (1805-1852) and Sarah Selina "Sally" Persse (~1805-after1841)

Family Chart: Generation 7, Number 20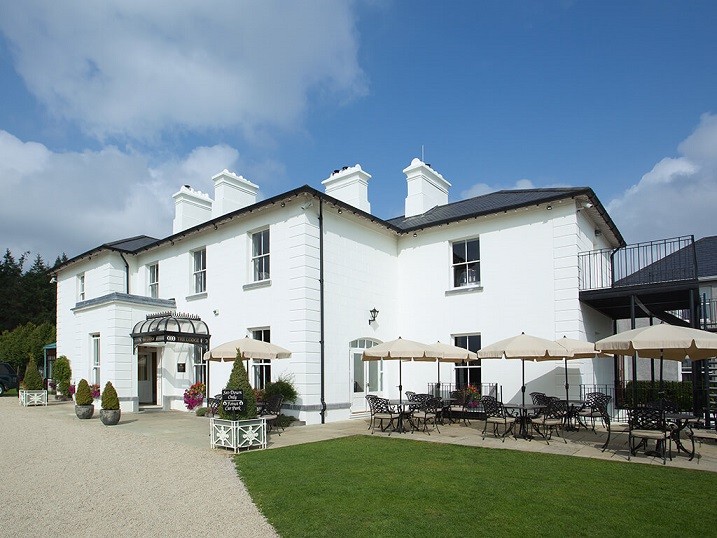 Editor's Note: This article was written by Alex Trouton of London who is researching her family history during her retirement. She is the 2 X grandniece of William Burke.
John O'Dwyer Creaghe's sister Anne (1831-1919) married into the Burke family.  This positioned her firmly amongst the Anglo-Irish 'ascendancy' and, we must wonder how she viewed her radical, fiery-tempered and itinerant brother.   Her husband William Burke (1816-1908) came from a branch of the Burke family with a small estate at Ballydugan in East Galway.  He had studied law at Trinity College Dublin and became the land agent to the Guinness family, who were cousins on his mother's side, at Ashford Castle (now a luxury hotel) on the Mayo-Galway border.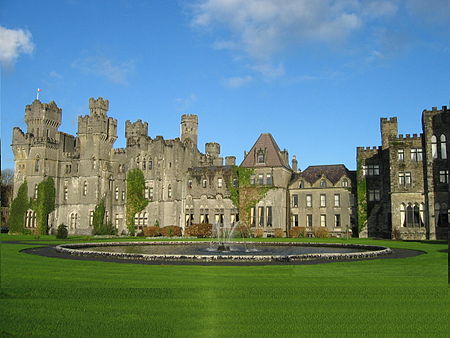 Anne's parents, Stephen Creaghe (1805-1852-Gen 7, #20) and his wife Sarah Selina 'Sally' Persse (b. 1800-d. after 1845) married in 1829 and had nine surviving children of whom Anne was the eldest. We gain some fleeting insights into their circumstances from Sally's father, Henry Stratford Persse, another member of the Galway Anglo-Irish ascendency. He was unusual in his milieu because of his great admiration for the potential of American democracy and critical stance towards the Anglo-Irish landowning class of which he was part, albeit a younger son. A fond father, he sent three of his sons to live and work in America believing they would have a better future there, and his letters to them are full of personal and historical interest. [i]
On October 4th 1829 he writes to his son Theophilus in America:
'I am sorry to tell you that Sally has made a very hasty match. She has married Mr Creagh without the consent of her family or his, and the stipend they have to live upon is very slender at present. He is a near relation of Lord Rosse [illegible] one of our relatives. [ii] He was intended for the church and was at Trinity College having a small salary from the Post Office for his support, but how he will now proceed I know not. A little patience might have … [remainder missing]
Finances evidently continued to be a problem: a letter of 1832 says:
'Stephen Creagh's grandmother is dead. He expects £660 by her. But the will is not open yet. He says if he gets that money and £800 settled by this father, that he and Sally would go to New York and give up the Post Office. I hope he may get relief for he has been a great burden upon your mother and me.'
Later in the letter he adds:
'We have just heard from Sally that his grandfather left Stephen but £350. He is quite disappointed.'
The grandmother in question was Anna Creaghe nee Heyliger (b. Marblehead Massachusetts – d. Dublin 1832) who must have been wealthy from the sale of the family properties in the West Indies.
After 1832 the family grew, with John O'Dwyer Creaghe, probably the fifth child, born in in 1841. Sally died in childbirth sometime after that, and Stephen in in 1852, leaving their numerous family orphaned. Informative documents are scanty: in 1922, during the Civil War, the Public Records Office was set on fire and many records lost, including the 19th Century Census data which would have made it easier to chart the lives of the family.[iii]
However, it seems that the children were looked after by relatives, and Anne went to Moyode Castle where her sister, Matilda, 'Mattie' was the second wife of Burton de Burgh Persse, their second cousin. Having a relatively small eligibility pool to draw on, cousin marriage seems to have been quite common amongst the Protestant Anglo-Irish community. Burton and Mattie had a large family and it's likely that having a resident aunt was a helpful boost to childcare. Moyode Castle was (for it was burned down in the Troubles of 1920) about 20 miles from the Burke's home at Ballydugan so it's probable that Anne and William Burke met as neighbours
In marrying William Burke, it seems that Anne Creaghe found greater security and prosperity. Seven children survived to adulthood, one of whom, William Creaghe Burke, followed in his father's footsteps as land agent to the Guinnesses.
The Burkes were an old established Anglo-Irish family, originally from Burgh in East Anglia. The Norman founder of the Burke family in Ireland was William de Burgh, the older brother of Hubert, a powerful figure in the administration of King John. William came to Ireland in 1185 in the wake of the invading "Strongbow" – Richard FitzGilbert de Clare, 2nd Earl of Pembroke – and was granted vast estates by the Crown. In 1203 he styled himself the Lord of Connaught after a bloody campaign in the West. The great ramifying tribe of Burkes claim descent from him; they tended to intermarry with Irish chieftains and later gentry in Co Mayo and Co Galway and often remained Catholic although pragmatic conversions to Protestantism were not unknown to assure property rights or access to public life.
William's father was the evangelistically minded Church of Ireland clergyman, John Burke, Rector of Oranmore, and later Vicar of Kilcolgan, both in Co Galway. He married Mary Ann Guinness, the youngest child of Arthur Guinness, the founder of the Dublin brewery. John was a younger son of Michael Burke of Ballydugan who briefly represented Athenry in the Irish House of Commons, from 1800 until its abolition the following year after the Union of Britain and Ireland. Michael Burke was also, according to Burke's Genealogical and Heraldic History of the Landed Gentry of 1847, a "director of inland navigation, and one of the surveyors-general for Ireland, who served as high-sheriff of the Co. of Galway, in 1786, and for the town of Galway, in 1796".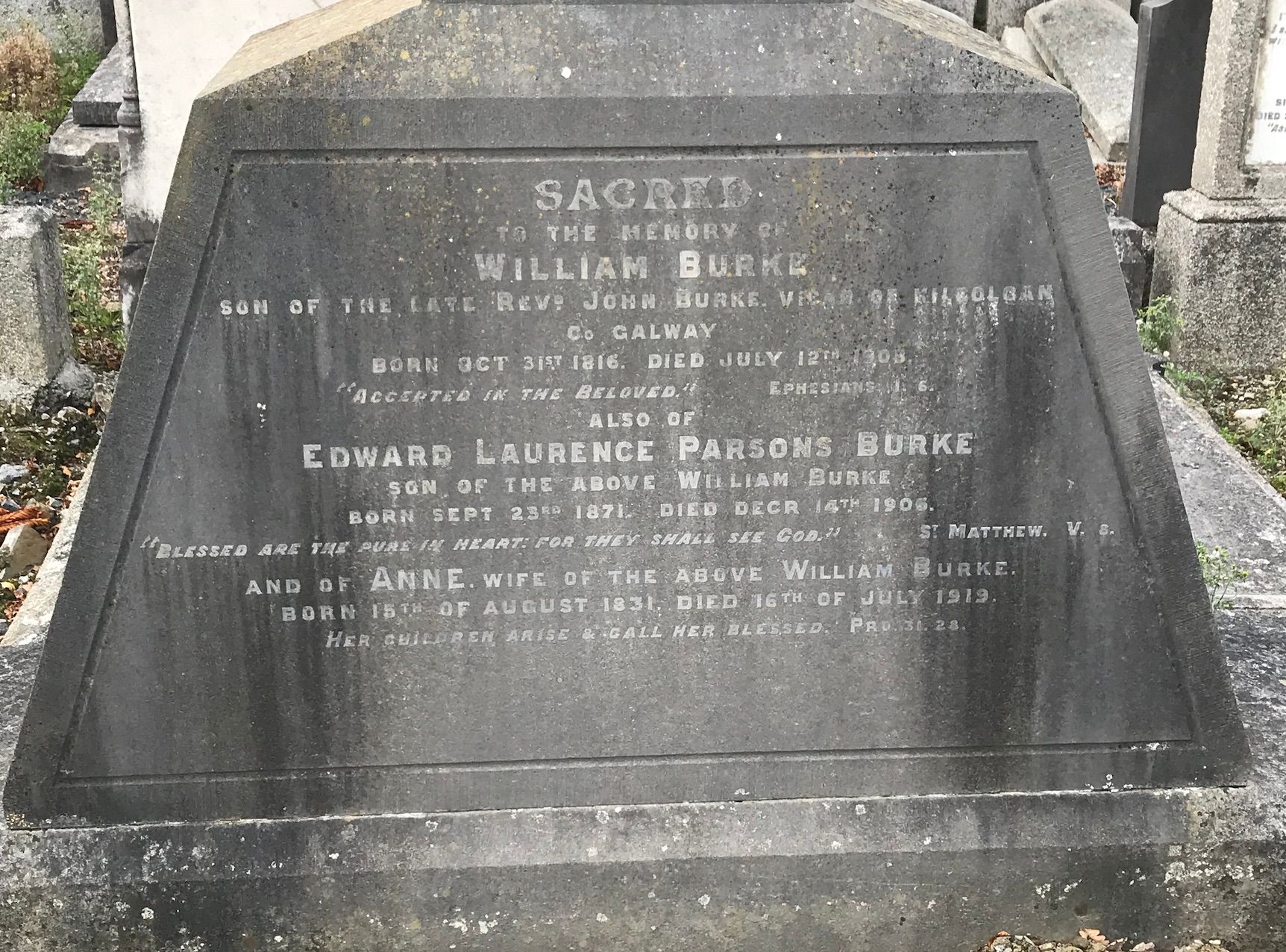 As far as we can see, William and Anne had a comfortable life and certainly both lived to a grand old age. It seems likely that the spacious lodge at Ashcroft Castle was built in 1865 for them and their growing family. In later years they occupied the picturesque Neale Park House, now a ruin, where the resplendent wedding reception of their daughter Lily, whom I met once, as a very old lady, took place in 1895.
The Ballinrobe Chronicle of April 27th, 1895 devoted three enthusiastic columns to the 'gay and brilliant gathering', full of details about the fashions worn with an extensive list of the wedding presents. The village was described as 'en fete, with the liveliest interest was taken in this happy event by the people to whom the accomplished young bride had endeared herself in so marked a manner by her unaffected goodness and kind, thoughtful disposition.' Behind the gaiety, more sombrely, her husband, Robert Blaschek, had come to Ireland as a member of the Royal Irish Constabulary, a quasi-military police force routinely armed and based in barracks, used to quell civil unrest throughout the nineteenth and early twentieth century.
One brief newspaper article acts as a marker for the underlying hard realities and simmering social tensions of the era. The Ballinrobe Chronicle reportedin June 1879 that a young woman attacked William Burke JP with a bucket of scalding water. Ireland was full of tensions and inequities which surely John O'Dwyer Creaghe felt deeply and sought to remedy in his life and work.
Alex Trouton, April 24,2022
References:
---
[i] "To the Land of the Free from this Island of Slaves, Henry Stratford Persse's letters from Galway to America, 1821-1832, eds James L Pethica and James C Roy, Cork University Press, 1998
[ii] Lord Rosse was probably Laurence Parsons, 2nd Earl of Rosse, 1758-1741.The family had their seat at Birr Castle, County Offaly. He was a cousin of Stephen's mother, Matilda Parsons. Interestingly, he held the office of Postmaster General of Ireland which may have helped Stephen obtain his post in the GPO.
[ii] More detail at: https://www.johngrenham.com/blog/2020/01/16/how-the-public-record-office-burned/
Addendum regarding Stephen and Sarah:
In October 2022, Niall Whelehan of the University of Strathclyde, Glasgow forwarded an article from the November 1, I945, issue of The Irish Press. It reports that Stephen W. Creaghe, in fact, rose to the position of President of the General Post Office (GPO) on O'Connell Street in Dublin. According to the article, Stephen, Sarah (Sally), and their ever-growing family (eventually 11 children) lived in the building until they outgrew the space. According to grandson Henry Creaghe the family's apartment was in the front of the building and looked down on O'Connell Street. It seems most likely that the family lived on the third floor.
Dr. Whelehan, being a professional historian, cautions that evidence that corroborates the claim that Stephen held the position has not been found. This is probably due to all records being lost when the GPO was completely gutted by artillery and the resulting fire during the Easter uprising in 1916.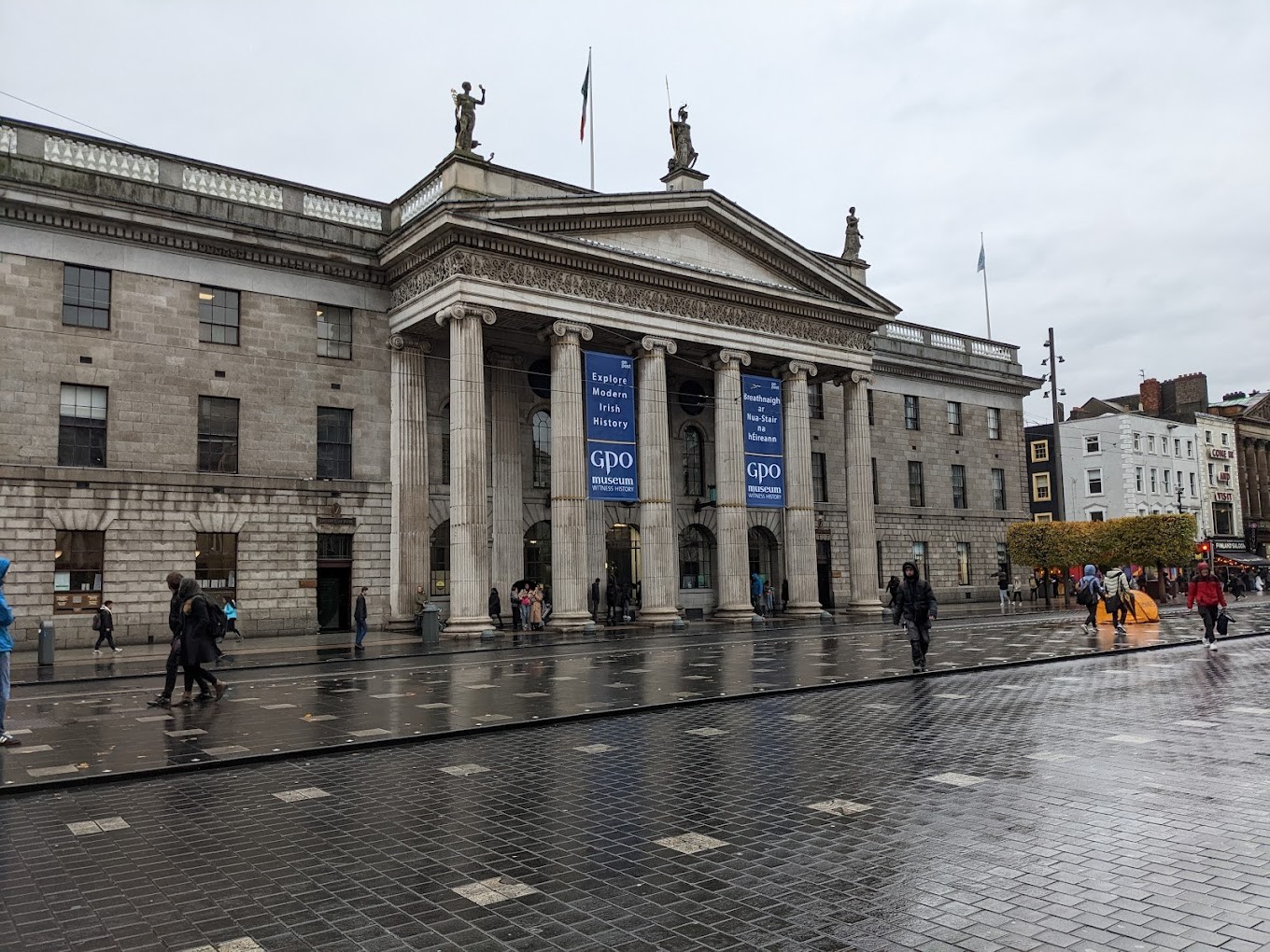 Henry brings to light other facts that probably contributed to Sally's father's displeasure at her marriage. Given that she and her two sisters were the beautiful "Three Graces" of Galway and that the other two sisers,became Ladies, Sally's choice of a husband in Mr. Creaghe probably did not meet his aspirations for his daughter. Perhaps Mr. Persse was somewhat assuaged by Stephen's rise to President of the GPO. However, as Niall points out, that would not have elevated him to Gentry status.
Niall plans a trip to Dublin in hopes of finding the portrait miniature of Stephen that Henry presented to the GPO in 1945. A photo of that piece would be a great addition to CFHS. We wish him luck.
SBC, November 8, 2022.
Refference:
Ceremony at G.P.O. Forges Link with 1852,Irish Press, November 1, 1945, p. 7. Courtesy Niall Whelehan.