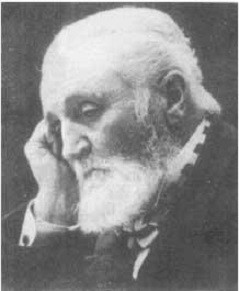 18 Nov

CFHS NEWSLETTER, NOVEMBER 20, 2021

Creaghe Family Historical Society Newsletter

November 20, 2021

There have been several interesting developments related to the CFHS website over the last year. New articles have been published, and additions have been made to existing pieces. Brief summaries are included here.

NEWS

The first item pertains to one of those things that commonly happens over time in most families. Elizabeth (Creaghe) Shand of Australia and her sister, Margaret (Creaghe) Stine, of New Zealand were recently exploring the internet for information on Richard Creaghe DL. Elizabeth was directed to an auction company's site which had this piece up for auction: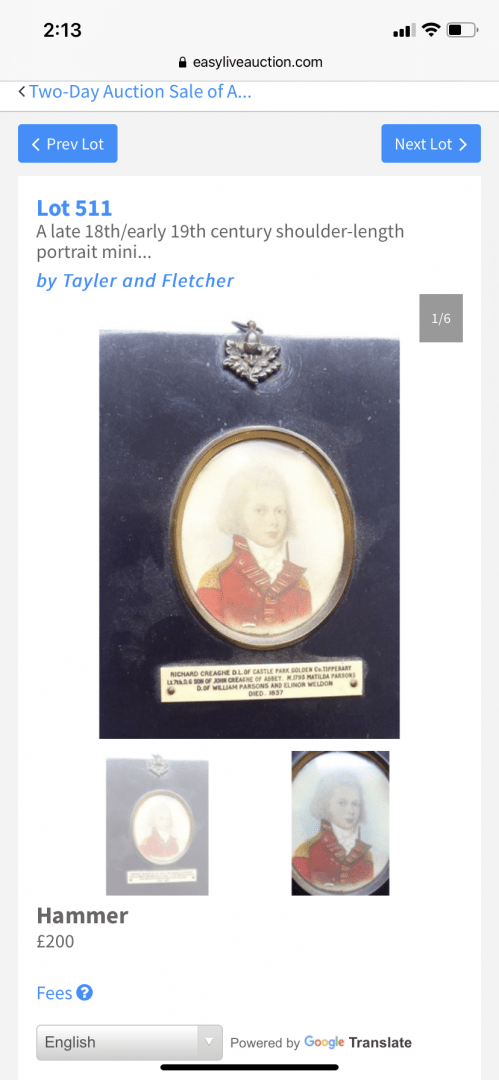 Shortly after, Margaret found this portrait up for bid: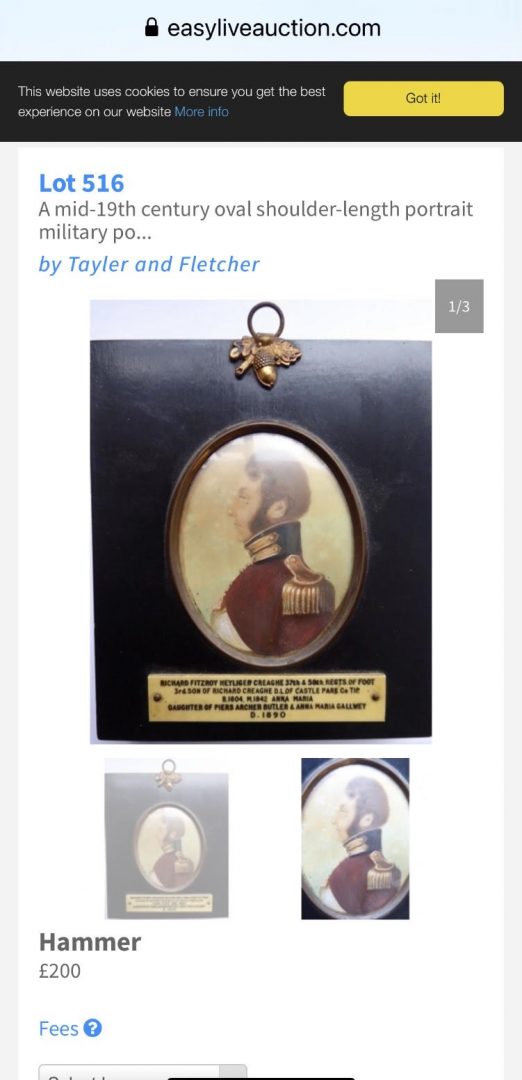 Elizabeth has reached out to the auction company to see if she can contact the buyer with the idea of getting these pieces back into the family. Who would buy portraits of people they don't know? And if they did, would they not try to find out something about the subjects? A search would bring them to the CFHS site. Then, of course, where did they come from in the first place? I do not remember seeing either one during a brief visit with Lady Pamela Blunden at Castle Blunden in 1997. I do recall the portrait of Richard F.H. Creaghe, but I do not recall a brass plaque. Neither picture was included in the catalogue of items from Castle Blunden that were recently sold: https://issuu.com/sheppards/docs/cb_1
Perhaps more information will be coming forth in the future.
Secondly, a note was received from British author, Maureen Howes, who is completing the sequel to her book, Emily Wilding Davison, a Family History. Emily Davison (1872-1913) was a famous English suffragette who was extremely committed to her cause. She was killed trying to disrupt a horse race by walking on the track during a race and trying to hang a suffragette banner on the King's entry. There is much more to her story than just that, and it is well worth exploring. During her research, Maureen found a connection between Emily and the Creaghe family. Emily was first cousin to Isabella Emily Chisholm (1854-1914) who was born in India and married Philip Crampton Hubert Vivian Creaghe, son of Richard F.H. Creaghe, in 1874. Communications like this are very rewarding to pursue.
NEW POSTS
John O'Dwyer Creaghe.
An article on John O'Dwyer Creaghe has been recently published. He was a very interesting guy – perhaps the most famous, or infamous, Creaghe thus far. In fact, there are now two authors due to publish on John's life and politics. Nicolas Grande of Luján, Argentina has a biography due for publication soon. Niall Whelehan, a history professor from Glasgow, Scotland, features John in a chapter of his book about the Irish Land League in the 1880's. Changing Land, Diaspora Activism and the Irish Land War, which is due out in December of this year. He is also considering a book length study of John's life in the future.
Alex Touton, an accomplished family historian from England, has contributed a great deal to this article. Her family has a connection to John's through his sister, Anne Creaghe. Anne and her husband, William Burke, were connected to the Ashford Castle in County Mayo and the Guinness family. Should be quite interesting; check out the Ashford Castle on the internet.
African American Civil War Memorial.
John OD Creaghe served with the 122nd Regiment, United States Colored Infantry as an Assistant Surgeon in the American Civil War. He is listed on the memorial in Washington DC.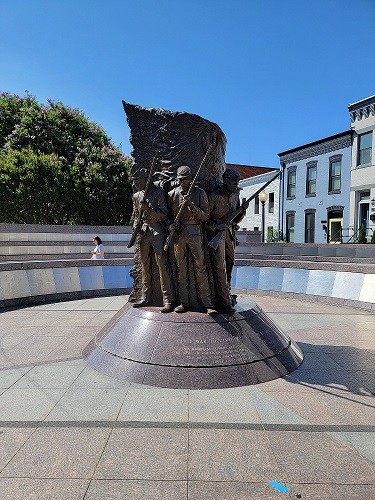 Richard Creaghe DL's Watch.
Margaret Stine her brother, Richard Fitzroy Creaghe, and Nicola Torbet have contributed excellent photos of Richard Creaghe DL's watch which has been handed down through four generations. The inscription tells the tale.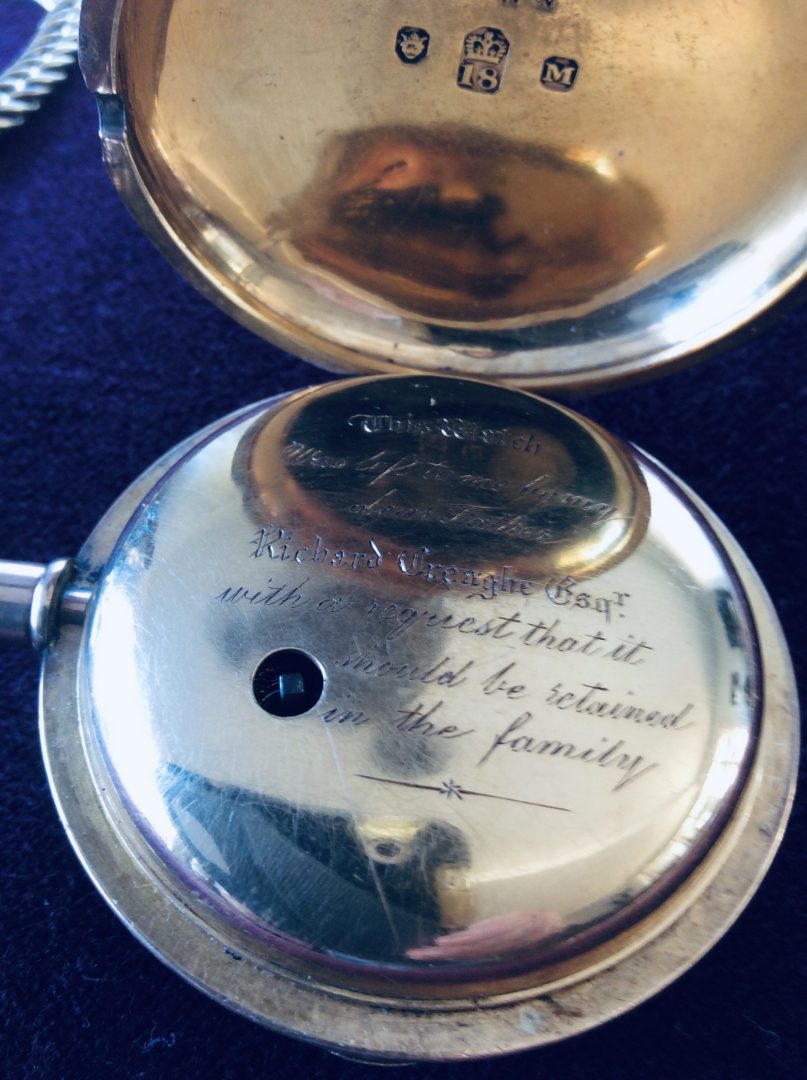 Percy Creaghe.
Patrick Lea, Percy's great grandson, and his family have contributed excellent photos which have been added to the post. They add a great deal to the information.
Also, a member of Graeme Robertson's group, the St. Helena, Ascension and Tristan da Cuna Philatelic Society, found an interesting article about Percy from his school days.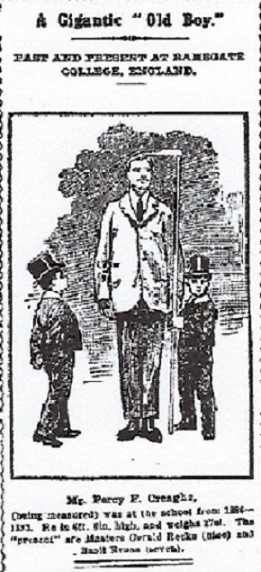 Again, please let me know about any errors, typos, or new information you might find of have to contribute. Also, if you would like to contribute an article, I would love to include it. . I hope you enjoy the new posts.
Steve Creaghe, November 20, 2021