20 Jan

James Garfield Corning
---
This article and comments are by Lucy Corning Brackett (b. 1955)
2015
---
1881-1964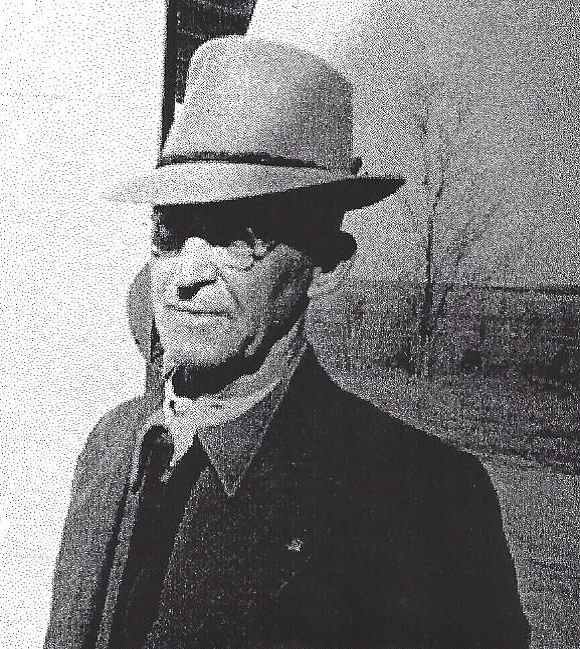 ---
The transcription that follows is from a handwritten autobiography of James Garfield Corning (married to my grandmother Ethel Katherine (Creaghe) Corning. It is written in black ink on 5 pages of stationery paper, and kept together with a straight pin. I don't know why, but many of my Nana Corning's letters and clippings were "clipped together" with a straight pin! (No paper clips then?) The pins have left a rust mark.
On the outside page of these papers, in large handwriting, is written "Important"; followed by smaller handwriting, stating, "I do not know why Dad (Grandad Corning) wrote this. I found it in this brown box– Mother (Nana Corning).
Following the letter are my comments which relate to the James and Ethel Corning family. I thought you'd be interested in this letter, because of the references to my Nana Corning and to Larry Creaghe.
---
Page 1
James G. Corning, born Oct. 10- 1881 at Grafton, Ohio. The youngest son of Howard and Martha Corning. He moved with his parents to Girard, Kansas in 1885. He attended grade school and high school there until April 1899 when he enlisted in the regular army and was assigned to Col. 18th Inf. And completed a 3 year enlistment. The greater part of his service was in the Philippine Islands during the insurrection. He was decorated with the Purple Heart for wound received in action.
Page 2
Mr. Corning has long been interested in veteran's affairs. He was a charter member of Lamar Camp #17 United Spanish War Veterans, served as the Commander and in 1960 was elected Dep. Commander of the Department of Colorado.
He was also a charter member of St. George S. Creaghe Jr. Post #3261 VFW and served 2 terms as commander. He joined the BPOE in 1917 and is still a member.
Shortly after being discharged from the army, he took a business course in Spauldings Commercial College in Kansas City, Mo. After which he held clerical jobs with various coal…
Page 3
Companies in Kansas and Oklahoma. In 1905 coming to Colorado he located in Rocky Ford and took employment with the American Beet Sugar Co.
In 1907 came to Lamar was associated with Elmer Wagner in Lamb feeding and farm operations through the next 6 years. After this he accepted the position as manager of the newly constructed elevator at May Valley, and held that job for 30 years. During that 30 years there was a great change in farm handling and hauling of grain from horse and wagon, farm trucks and eventually Semi Trailers.
Page 4
During the next 4 or 5 years Mr. Corning was employed by the *National Alf (spelling?) Dehy. and Milling Co. in their office at Wiley.
Mr. Corning was always interested in farming and feeding live stock. In 1918 he formed (these last two words are crossed out) a partnership with Larry Creaghe and (this word crossed out too) they purchased ¼ Sec. of land in the May Valley area, later he took over Creaghe's interest. Through the years following, in cooperation with his tenants, he fed many thousand head of sheep and lambs. Adjoining acreage was added to this farm land and it was increased to 300 A. of well improved land. The farm was sold in 1950.
Page 5
Mr. Corning was united in marriage to Ethel Katherine Creaghe, daughter of Mr. and Mrs. St. George Creaghe July 7- 1915. To this union was born four sons.
James Richard and wife Sophia Ann—four daughters one son of Red Bluff, Calif.
Cap. Wm. Creaghe and wife Julianne four daughters and four sons, of Oceanside, Calif.
Chas Howard and wife Patricia two sons Elmhurst Ill. John Lawrence died in infancy.
---
Lucy's notes, September 18, 2015:
Although my grandfather Corning's handwriting was decent, his punctuation was lacking and he used a lot of run on sentences. There are a few misspellings. The transcription reflects this.
I transcribed this letter in sections, reflecting the page numbers, just in case you wanted a scanned copy of the original. I thought you could follow the original easily if you had the typewritten one in hand.
I looked up the American Beet Sugar Company, since I wasn't sure about the spelling of Rocky (?), a location cited in the letter. My grandfather moved to Rocky Ford in Colorado where he worked for the sugar company. I learned that the company started out in Nebraska, and opened their second location in 1900 at Rocky Ford, Colorado. It is still in existence. Other locations in letter—-I visited the VFW hall (it was closed), the BPOE (pretty sure on that), and the two Lamar cemeteries—-and of course the Creaghe, Corning and Tobin houses.
I would be interested in any information on the Spaulding College, the beef and lamb operation, the business with Larry Creaghe, who Elmer Wagner was, and I'm sure I'll have other questions when I get through the 3 or 4 letters my Nana wrote. Transcribing her handwriting will be a chore, since it was terrible!
Lucy Corning Brackett, September 18, 2015